The stress and demands of caregiving can negatively impact your health, well-being and career.1
Are you helping to care for an aging loved one?
Frustrated and confused by online searches for caregiving services?
If so, you're not alone. In a study about caregiving, approximately 34 million Americans have provided unpaid care to an adult age 50 or older in the prior 12 months.1 The emotional, physical and financial challenges of caring for an elderly parent or family member can be overwhelming. It also can have a negative effect on spouses, siblings, children, grandchildren, friends, neighbors, coworkers and employers… often in ways we don't even recognize.
70%
of working adults report having missed work due to caregiving responsibilities1 and 39% leave their job to have more time to care for a loved one3
46%
of caregivers report experiencing a negative impact on their health & well-being1 and 53% reported feeling a high level of stress3
50%
of caregivers report having less time for their spouse/partner, their children and themselves1
61%
of families are helping to cover the cost for situations where professional care is received at home and 48% report a reduction in their quality of living in
order to pay for care1
CareScout® can help!
Drawing from over 20 years of experience and a network of more than 100,000 healthcare professionals and facilities, CareScout® makes it easier for you to help your aging loved ones.
With Caregiver Support Services from CareScout®, employees and their family members can get unlimited access to expert care advice, unbiased guidance and numerous resources. Our network of more than 35,000 registered nurses and licensed social workers work one-on-one with families to:
Assess and evaluate their specific situation.
Provide education and advice.
Prepare a personalized care plan and resource options.
CareScout… can help deliver peace of mind with a plan of action.
Caregiver Support Services
Here's how it works...
We connect you with a clinical Care Advocate (registered nurse and/or licensed social worker) to objectively assess and evaluate the situation either online, over the phone or in-person by a licensed nurse from our nationwide network. We also work with you and your family members to determine their loved one's care needs.
We provide education and advice so you can select and manage ongoing care relationships.
We build a personalized care plan that considers their existing support system, focuses on cost-effective solutions and leverages CareScout's network of field nurses. We also identify and source appropriate care options at negotiated rates.
We help save you and your family time and stress… it's that easy!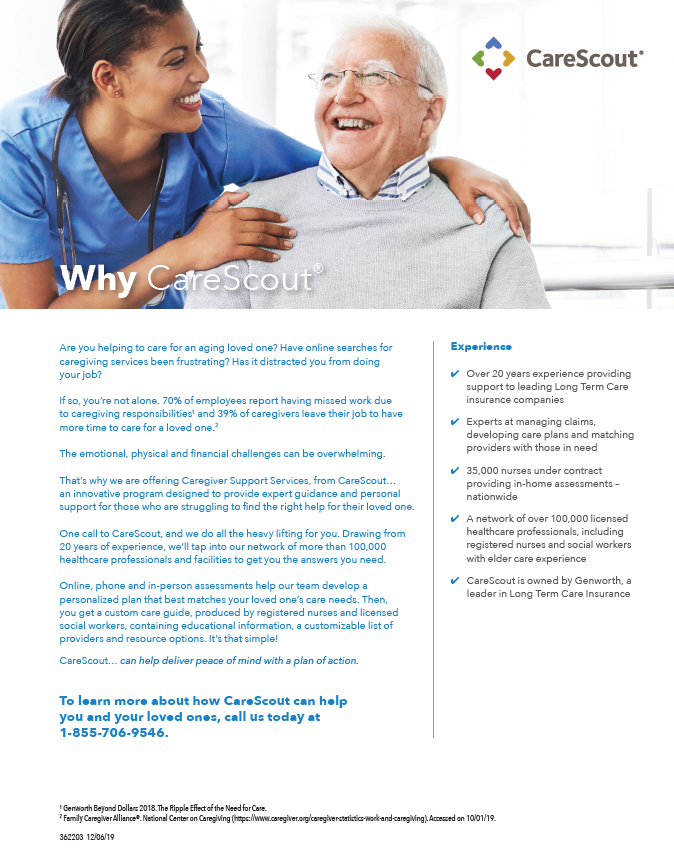 CareScout also provides...
Information About Care Providers and CareScout Support Services
Access to a database of more than 100,000 providers including nursing homes, assisted living facilities, adult day health facilities, home care providers, community resources and other care provider options. Learn about different types of care providers as well as what questions to ask when you evaluate them.
Public Resources
Browse senior care support services provided by local and state organizations – i.e. Medicare benefits, other payment sources, area agencies on aging… and more.
Caregiver Assistance
Review information that can help you prepare for (or evolve) your caregiver role through the use of care evaluator tools, cognitive impairment measurements, medication logs, etc.